Which embroidery thread should I use?
Which embroidery thread should I use?
In any case, you must use machine embroidery thread.
Today we are going to look at the different embroidery threads. Surely you sometimes ask yourself what one or the other yarn is used for.
Which embroidery thread should I use? A valid question.
One thing in advance: as the name suggests, hand embroidery thread is only for hand embroidery work and sewing machine thread only for sewing machines.
Lots of yarn on the market
There are tons of thread for embroidery machines on the market: viscose/rayon, polyester, cotton, metallic and effect threads, wool embroidery threads and more.
Brand or not, it doesn't matter here.
Not every machine likes every yarn, by that I mean from different manufacturers.
You have to try it out a bit. Every machine is a diva.
Quality is important
It is important that the yarn is of the right quality and that the needle fits.
There are also different yarn thicknesses.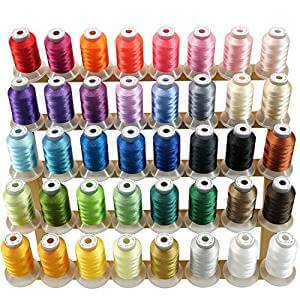 New Brothread 63
However, this strength is not identical to that of sewing machine thread.
The following applies to embroidery thread: The larger the number of thread count, the finer the thread.
For example, I personally like the one from New Brothread 63 (see picture on the left). The price-performance ratio is right.
My personal favorite though is Mettler Polysheen. Of course it's not the cheapest, but the shine is super nice and the thread strength is really good.
It is also available in most colors as an 800m roll. It's not that expensive that way.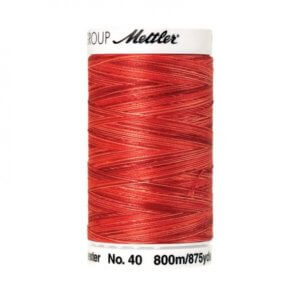 Amann Mettler Polysheen 800 m
But which yarn is for what?
Here is an overview and some information:
polyester embroidery thread
Polyester embroidery thread is very hard-wearing and particularly well suited for high embroidery speeds. It is chlorine-resistant and the yarn does not lose its color intensity even after prolonged exposure to the sun. That comes from its high quality.
Because of these characteristics, this thread can be used for embroidery on heavy-duty garments (e.g. sportswear or safety clothing). It is also very suitable for towels.
It is ideal for use with many new embroidery machines that work with a very high embroidery speed of 1000 stitches per minute. This puts a special strain on the yarn.
multicolor yarns
multicolor yarn
Multicolor yarns are mostly found in the polyester yarn area. With this thread you can set special highlights with their color gradient and spice up a supposedly boring plain embroidery.
multicolor yarn
You need special needles for this. You will soon find an overview of which needles for which embroidery threads on our blog.
Rayon or viscose embroidery thread
Rayon/viscose thread is probably the most well-known embroidery thread.
It is a natural product in which a high-strength viscose filament yarn is produced from cellulose. Due to its special shine, it looks very classy. Another advantage is that this embroidery thread can be washed at up to 95. It is available in strength 40 for hobby embroiderers.
wool embroidery thread
Wool embroidery thread is significantly stronger than standard polyester or rayon embroidery thread. But you can achieve great effects with embroidery.
However, the embroidery pattern must have special properties for this. The motifs must have a very low embroidery density and a longer stitch length. The thread must find its place, otherwise there will be loops or thread tears.
cotton embroidery threads
Cotton embroidery threads are a purely natural product. These are often used for embroideries that should not have a sheen (e.g. cross-stitch patterns or shabby-style embroideries).
You can often get them in size 30, which is a little thicker than the standard embroidery thread size 40.
So you have to be careful not to use patterns with a very high number of stitches. Thread breaks are otherwise the order of the day, and the embroidery is then generally no longer as fine.
metallic yarns
Metallic yarns are covered with a metallized polyester and have a fine core of viscose yarn. If you pay attention to a few things when processing this yarn, you can achieve really beautiful effects.
Metallic yarn snowflakes
As with the wool and cotton embroidery thread, the same applies here:
Not every embroidery pattern is suitable for processing with metallic thread. Embroidery density must not be too high, the stitch length should also be increased and the number of stitches reduced.
In addition, the embroidery speed of the machine should be reduced to the minimum.
I hope you now have a small overview.
Other great yarns are, for example, glow-in-the-dark yarns or yarns in neon colors (see below)
Soon there will be information about which needle, what for? Just check our blog from time to time.
By the way, you can shop for matching fabrics here.
I hope you enjoy browsing and embroidering
creative greetings
Jana