What to do if the embroidery file is not readable?
Help, I can't open my files
You have just successfully downloaded your purchased embroidery files.
Full of motivation and anticipation you sit down at your embroidery machine and then suddenly stop, nothing works.
That's why I have some tips for you today
The embroidery file is not imported.
That's annoying and maybe you're just angry at the shop owner.
I then researched this topic online.
The following interesting information about the topic - embroidery file not readable, embroidery parts left out,
Corrupt files - I came across in my search:
Lots of different machines and all divas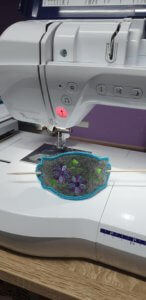 There are machines, for example, from Bernina, Brother, W6 (among others, the names Bernina Bernette were mentioned frequently
Chicago 7, Brother 750e, W6) which cannot read the files. Often they are older too
Machines not quite as good with newer software (if used for digitizing),
are compatible. As you can see, every machine is a diva.
rename files
The Bernina obviously doesn't like the file names! Please name the file name in Windows
to except for the extension .EXP, which must be. You must include all spaces, underscores,
Remove dots, dashes and special characters. (E.g. Owlgross.EXP)
With the Brother 750e, the stick, which is only used for transfer to the machine, can have a maximum of 512 MB
to have. Also, he doesn't like it when there are too many files on it. Please save a maximum of 8 files on it
save with the extension .PES, not entire folders.
Special characters are taboo
Some other Brother machines, W6 but also my Janome MC500e don't like the name
Special characters such as ä,ü,ö,ß, no dashes, spaces, dots, commas (only letters az and
Numbers 0-9) etc. As a result, some things are not embroidered, something is left out
or the data from the stick are not taken at all.
Please change the file names here as well. Use max
only 8 characters for the name. (e.g. Haseei1.DST). Also, only save a maximum of 2 files here
your stick.
Format USB stick
ALSO you should always format the USB sticks on the machine, if that doesn't work, please do it
on the computer. You should repeat this from time to time.
Nevertheless, a file can also be faulty from the outset, I cannot rule out that.
But then you can contact me and you will get a new file. You can still browse here.
I hope I was able to shed some light on this and remain
with creative greetings
Jana