Great applications with the embroidery machine - how does that work?
Applique with the embroidery machine
How does it work?
You've probably already wondered how you can conjure up great appliqués with your embroidery machine. I can help you with this.
Here I explain step by step how to make an appliqué with the embroidery machine.
What types of applications are there?
There are different types of applications.
the classic application - is combined with fabric, whereby the edge is embroidered with a wide stitch, usually satin stitch, so that nothing frays
the doodle application - is combined with fabric, but here the edge is not finished with a wide stitch, it is embroidered several times over the edge that it looks like "scribble". Because Doodle means "scribble". It is intentional that the fabric frays slightly at the edge.
If you want to embroider doodles but don't necessarily like the fact that the fabric frays, you should use fabrics that don't fray, such as jersey, fleece, or felt.
I also recommend cutting out the fraying fabric with zigzag scissors.
Now it starts:
General
What you need:
Embroidery fleece / adhesive embroidery fleece / Avalon film for "over there" (recommended for felt, leather, imitation leather, stretchy fabrics)
embroidery thread(s)
Jersey or cotton remnants, felt, imitation leather
a sharp pair of scissors
( I like to use the Solufleece , it washes out without leaving any residue.)
File checked, frame size set

import file
Send file to stick or directly to machine (depending on model)
Check if the file exists and if it is readable. If this is not the case, please change the file name. Recommendation 8 characters, only digits and letters DO NOT use any special characters. You can find more information and tips on my blog.
Check lower thread, if necessary rewind
Check the needle (does it match the fabric?)
Check threading
If you can staple with your machine, then I advise you to do so. I always staple everything beforehand.

staple function
This is what the stapling function looks like for me, see picture on the left
And now we can start:
Determine the frame (size you need) and cut your fleece to size.

Clamp fleece
Clamp the fleece firmly and then place your main fabric over it. You can fix it with spray adhesive or, as mentioned, staple it. Another possibility is to fix it with pins at the very outer edge.
Now the machine embroiders the mark for the overlay of the appliqué fabric, it looks like this:

Marking appli fabric
fabric placed
Now lay out your prepared scraps of fabric.
In the next step these are sewn on.

fabric sewn on
Remove the frame, cut off the protruding edge and clamp the frame again. You may have to repeat the whole thing because the application requires several different fabrics.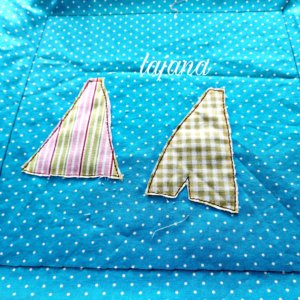 This is how it looks now.
Depending on the type of fabric (e.g. felt) I put Avalon foil on it, which can be washed out. This prevents the thread from sinking in and possibly also thread tangles.
Here, previously described operations were repeated.
| | | |
| --- | --- | --- |
| Embroider marker for fabric | put on fabric | [caption id="attachment_20954" align="alignright" width="308"] embroidered and cut out[/caption] |
Now the details and the doodle border are embroidered. In the classic application, it is the satin border that is embroidered. All you have to do is remove the frame. Remove your embroidery material from it and you can possibly trim again cleanly.
Your application is ready.

finished application
You will find these or similar instructions in every application file and ITH file.

By the way, you can shop for matching fabrics here.
I wish you lots of fun browsing, embroidering and appliqué
creative greetings
Jana