Small needle dictionary - which needle for what?
Small needle encyclopedia - Which needle for what?
The offer is huge. But which needle do I need for what?
I was 14 years old when I started sewing. At home we had a Singer sewing machine with a "pedal drive". Very decorative, I must say, but also very robust.
I practiced like crazy on that. But I also enjoyed sewing by hand. In the GDR we still had the subject "Needlework". There we learned all kinds of stitches, including embroidery, darning, knitting and crocheting. I thought it was super cool back then.
Today there are so many machines of all kinds. Sewing, overlock, coverlock, embroidery and knitting machines. Accordingly, many needles are on the market. Also different brands. My favorite is Schmetz, but you should try it yourself.
Since women can ever get confused. Which sewing machine and sewing needles are there?!
Here I have listed the (in my opinion) most important needles.
Universal needles:
universal needles
As the name suggests, universal needles are used universally.
However, they are mostly used in the processing of woven goods (e.g. cotton).
Since the needle tip of the universal needle l is slightly rounded, it can happen with knitwear that
that holes appear in the fabric because the stitches are damaged during sewing.
Depending on the thickness of the fabric, there are also different strengths of the needles.
twin needle:
I think this is a great invention if you want to conjure up beautiful finishes and hems and don't have a coverlock.
The twin needle is almost perfect for this, regardless of whether it is elastic or woven fabrics. You can also use this needle to create great effects with decorative and topstitching seams.
But beware, this needle cannot be used in every sewing machine. She should be able to zigzag stitch. You can't sew it with twin needles, but the hole in the stitch plate has to be wide enough for the twin needle. There should also be a second twine holder.
The twin needle is available in different versions.
For example, for stretch fabrics at different distances, as a universal needle , for metallic yarn , jeans and recently also for embroidery . Unfortunately, I can't say anything about embroidering with the twin needle, I actually only discovered it when I created the article, hihi. Likewise, that there is a triplet needle. Wow, now I'm really excited.
Here are some sample images.
Jeans needles:
The Jeans needles are very resilient. Jeans are also very thick, solid material.
But these needles aren't just for jeans, they're great for canvas too.
The needle tip is slim and chrome-plated.
In addition, the reinforced shaft of the sewing machine needle ensures extra stability when sewing.
Jersey needles:
I use the jersey needles for elastic fabric types such as jersey, elastane fabrics or knitwear. Although I have to admit that personally I prefer to use the stretch needles .
Jersey needles have a medium ball point that displaces the stitches. The tip prevents stringing and does not damage the fabric.
stretch needles:
Like jersey needles, stretch needles are also used for processing light, elastic materials and highly elastic knitwear.
These are, for example , cotton jersey, summer and winter sweat, Romanit and so on. This needle also has a medium ball point so as not to damage the fabric.
In addition, they have a groove (a small indentation under the eye of the needle) that holds the thread in place.
Of course, the same applies to the stretch twin needle.
leather needles: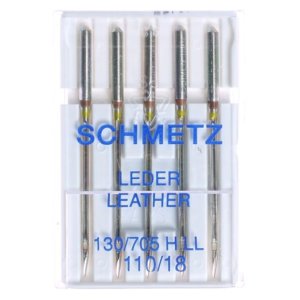 As the name suggests, these leather needles are suitable for all types of leather.
The triangular tip makes it easy to penetrate the material as the leather is being cut.
The only catch is that it cannot be unpicked if there is a sewing error, as the holes in the material will not disappear.
Microtex needles:
Microtex needles are very versatile.
They are suitable for fine or densely woven fabrics such as lycra, microfibre, softshell, neoprene, functional jersey, viscose but also imitation leather (at least in my experience)
The tip of the Microtex needles is very slim and extremely sharp.
Overlock needles: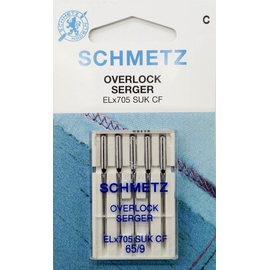 Overlock needles are specially made for overlock and coverlock machines.
Because the shaft is reinforced, this needle is very stable at high speeds. In addition, they are very versatile.
However, since normal flat-shank sewing machine needles can also be used in many overlock machines, a special overlock needle is not absolutely necessary.
It's safest to read your machine's manual.
Embroidery needles: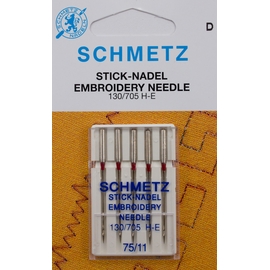 As the name suggests, the embroidery needles are specially designed for embroidery work with the embroidery machine or sewing machine (with embroidery function).
They have a particularly wide eye. The particularly wide thread channel is particularly suitable for thick threads and woolen threads.
The point of the embroidery needles has a slight ball point. Please note, however, that different needles are used for different materials.
For example, I use Microtex needles or universal needles for embroidering imitation leather. I will write an extra report on the subject of sewing artificial leather.
Quilting needles:
The quilting needle is also often referred to as a quilting needle .
It has a slim, lightly rounded point and easily penetrates the three layers of a quilt without damaging the high-quality fabrics.
The rounded ball point ensures an exact and clean seam appearance
Topstitch needles: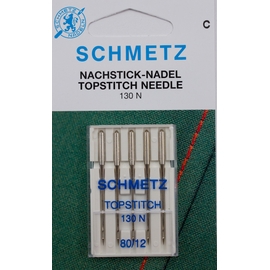 The topstitch needle is also often referred to as a post-stitch needle.
It is used for multidirectional quilting. This ensures that the thread glides effortlessly through the long eye of the needle.
In addition, the topstitch needle produces fewer skipped stitches.
You can use the needle when sewing with two or heavier threads, as well as for decorative and topstitching work.
This needle has a slightly rounded tip and a long eye. This makes it particularly suitable for patchwork/quilting and wherever thick sewing threads are used.
Metallic needles:
The metallic needle was specially developed for use with metallic effect yarns. In relation to the needle size, it has a very long needle eye of 2 mm, which remains the same length for all needle sizes.
The longer needle eye allows easy processing of heavy or double threads and allows the metallic thread to slide particularly gently through the needle.
Thread breaks are thus optimally prevented.
Metallic needles also have a rounded needle tip so as not to damage the fabric.
Super Universal Needles (non-stick coated):
Do you know that? Unattractive glue residue on the needle because you used self-adhesive embroidery stabilizer or temporary spray glue?
The new Super Universal Needle , also known as the Anti Glue Needle, puts an end to that. In the past, these needles were only available for industry, but now they are also available for household machines.
The very best thing about these needles is that they have a particularly slippery non-stick coating with NIT (= Nickel-Phosphor-PTFE). Significantly less adhesive residue sticks to the needle (no needle sticking) and the thread breakage is over.
The extra large eye corresponds to that of a 2 NM thicker needle, which further supports the anti-stick effect (my word creation, hihi). This in turn makes the needle particularly suitable for embroidery work.
The large eye on a 70 gauge Super Universal needle is the same size as on a normal 90 gauge needle.
The special scarf and eye section also prevents skipping stitches.
It can also be used with most materials without any problems thanks to the slightly rounded tip shape.
Since the shaft has a particularly strong, conical shaft thickening, even thick fabrics such as jeans do not pose a challenge.
Notes at the end:
If you don't want to buy all the needles at once, many suppliers also have starter packs. Just look it up on the web. I've found one for you here.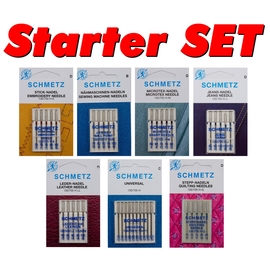 Most of the machines in the home today use flat shank needles.
In industrial machines or very old pedal sewing machines, round-bottom needles are often used.
You can find this information (if you are a sewing or embroidery beginner) in your operating instructions.
You can find more information about embroidery and sewing on our blog. Here is the blog.
You are also welcome to write to me and ask your questions.
And embroidery files can be found here.
By the way, you canshop for matching fabrics here.
I hope you enjoy browsing and embroidering
creative greetings
Jana