The 3 biggest mistakes I made while embroidering
Every beginning is difficult - that's how it was for me.
I have been an enthusiastic hobby seamstress for many, many years.
At some point I was enthusiastically watching the machine embroidery at a creative fair.
I wanted that too. I was convinced that embroidery gives the finishing touch to every sewn piece.
Embroidering by hand is also nice, but dear time ...
Said and done
I bought an embroidery machine at the next fair. Janome MC 500e was the name of my chosen one. It can't be that hard, I thought to myself.
But... dandelions
Because every beginning is difficult, I wasn't always good friends with my embroidery machine.
Threads snapped, spools became tangled, embroidery images were often disastrous.
And by that I mean embroidery images that I have worked with purchased embroidery files .
At that point in time, I didn't have the faintest idea that I had digitized embroidery files myself. So I read a lot, tried it out and got used to this work. Today I don't want to be without my embroidery machine anymore.
So that you can also enjoy embroidering in the future, I'll tell you my 3 biggest mistakes. This way you can avoid them right from the start.
Because a great embroidery picture can really be the eye-catcher on your self-sewn piece .
My 3 biggest mistakes I made in the beginning were:
Inferior Yarn - Every machine is a diva and has its own "desires" I found that out very quickly. The cheap yarn doesn't work at all on my machine. So I decided to invest some more money. I am very enthusiastic about the Mettler Polysheen yarn. It hardly ever tears, has a nice thickness and a special shine. This yarn is available in countless color nuances, for very different projects...
Conclusion - see what your machine likes, maybe your machine manufacturer also has a recommendation for you. My recommendation is this one...
Mettler Polysheen[/caption]
2. Yarn getting tangled in the bobbin - You'll experience this too if you haven't already. You are embroidering something big, maybe a saying, suddenly the thread gets tangled in the lower bobbin, the machine stops. So far so good. It is worse when the substance is more or less "eaten". Then the embroidery picture can unfortunately no longer be saved. So remove it and start all over again. First, make sure you've used the right needle for your project. Take this opportunity to check whether the thread is properly seated everywhere. That was the main problem for me. It is often enough if the thread is not correctly seated on just one device. Then such unsightly thread balls are unavoidable. You should still check the lower coil. It is imperative that you remove all thread remnants and insert the lower spool correctly.
Conclusion - Before each new stick, simply rethread everything as a preventive measure, clean the bobbin cases, insert the lower bobbin in the right direction, check the needle.
3. Lower thread comes up - That got on my nerves. This phenomenon was particularly noticeable when embroidering letters. First of all you have to rethread here and have the right needle and needle size. I use a size 75 for this. Which needle you need also depends on the type of fabric. For example, you will need a size 75 stretch needle for jersey. After I did all this, the bobbin thread was still coming up. That was really hair-raising. Did I mention that I hate reading manuals? Well, I then made my way through it and read it up. Oh dear, the Janome actually has an extra bobbin case for letters and delicate embroidery work, marked with a yellow dot. I changed them immediately and lo and behold... by magic the letters looked really great
Conclusion - First of all, look through your manual to see if you can find anything to troubleshoot. Only then do you rethread your machine, check the position of the lower bobbin and insert the appropriate needle.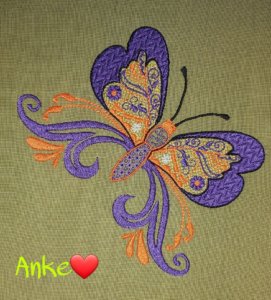 As you can see, the different embroidery machines require an individual approach to a wide variety of topics.
If you follow these tips, you will create beautiful embroidery images.
Because nothing is more annoying than a slipped or ugly embroidery picture, right?
With creative greetings Jana