5 tips that lead to great embroidery results
This is how you conjure up great results on your embroidery machine
5 tips that lead to great embroidery results
Do you know that?
I am very happy that I have acquired beautiful embroidery files. That's where my creative heart laughs.
The download also worked fine. Euphorically I start to embroider my work and suddenly THAT!
Fabric warps, thread keeps tearing, needles keep breaking. Damn!
The first thing you suspect is the embroidery files designer behind it. File does not work or something like that.
I know all that!
But now let's take this apart.
My Janome predecessors of the Janome MC 550
What should I do?
For example , the embroidery files we offer have been successfully embroidered on various machines and also on different fabrics and have been sufficiently tested.
However, it is recommended to do a test embroidery before embroidering on garments.
If you do not get a satisfactory result, please contact your embroidery machine dealer first so that we can solve the problem together.
It may be that maintenance is due, the machine needs to be recalibrated. I take my Janome MC 500 e for maintenance once a year.
Next, you can go through the following instructions piece by piece and thus rule them out as errors.
1. TYPES OF FABRIC/DEFAULT
Here you have to know that the pattern can be slightly distorted with stretchy fabrics . A firm grip and a washable Avalon fleece placed over it can help. I also always staple with my machine beforehand. Of course, this is only possible if your machine has this function.
Warping is more likely on heavy fabrics such as sweat than on thin cotton fabrics. Therefore, the needle, thread tension, fleece and fabric should be coordinated.
2. Yarns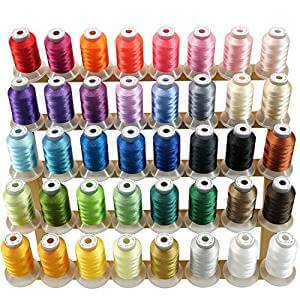 embroidery threads
I work with Amann Mettler Poly-Sheen . However, it's not the cheapest. It is also not suitable for every machine.
In any case, it is advisable to use polyester thread (e.g. also from Gunold), as this is resistant to boiling and bleaching.
Unfortunately, I personally have had bad experiences with the cheap offers of embroidery thread. It tears very often, does not cover well and very often lacks the shine. It's best to try it out for yourself, because I'm only passing on my own experiences here.
3. Colors in the files
The colors of the files are chosen at random and can be adjusted or changed at any time.
The software assigns a number to each color, which matches in some formats but not in others. So it can be that with me the No. 1 is black, while in the DST format it is red. We have no influence on that. These numbers are assigned by the manufacturer (software). But it doesn't matter, because everyone wants to live out their own creativity. 
4. Fleeces
It is important to use the right fleece. Also pay attention to the recommendations of your machine manufacturer.
Personally, I like to use tear-away fleece for underneath or the washable fleece. You have to use the washable fleece if you want to embroider towels or clothing, for example.
The tear-off fleece goes well on felt work, bags, decorations, etc. In contrast to the washable fleece, it is quite firm, even hard.
There are these types of fleece, among others
washable fleece
works for all materials
Soft
washable without residue
Suitable especially for toddlers/children
For elastic fabrics such as jersey, sweat, etc.
Embroidery stabilizer to cut off

extra strong and soft

Super Strong is ideal for large embroidery designs with a high number of stitches.

Suitable for all materials
Recommended for embroideries with very many and dense motifs
Necessary for fleece fabrics such as velor, jersey or terry cloth
It is also generally recommended to protect fabrics when embroidering
Is placed on top and is water soluble
It comes in thin and thick versions
Thinner Avalon can also be torn off after embroidering
Thickness of 5mm is very suitable for small ITH embroidery
For larger ones it can also be 1 cm
used for feeding, padding
5. Explanation of terms to choose the right embroidery
a) Classic embroidery:
- all areas are fully embroidered. (also called full stick)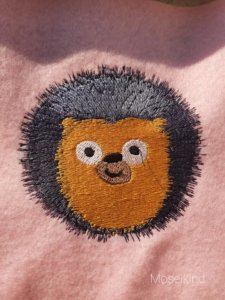 Classic embroidery/ full embroidery file
b) Classic application:
- the surfaces are inlaid with fabric.
- The stick is done in several steps.
- A border is embroidered at the end to avoid fraying
c) Fringe application:
- the surfaces are inlaid with fabric.
- No border is embroidered as the fraying is intentional
- Tip: please do NOT cut the fabric too tight here.
- It is better to trim at the end with a small curved pair of scissors
d) Doodle application:
- the surfaces are inlaid with fabric.
- No border is embroidered.
- For this, lines are embroidered that look like scribbles. This is intentional.
- Tip: please do NOT cut the fabric too tight here.
- Better to trim at the end with a small curved application scissors!
e) Doodle embroidery
- Doodle means "scribble". The embroidered motifs look as if they were drawn (scribbled) by hand with a pen or with a sewing machine
were sewn on or sewn on.
- The outlines of a doodle embroidery file are uneven and mostly look unclean (just like scribbles), but all this gives the doodle
Embroidery motif that special something and is wanted.
f) ITH embroidery file
- ITH means "in the hoop" and means embroidered in the frame more information can be found here on our blog
doodle embroidery
If you have observed all of this, nothing should stand in the way of a great embroidery result.
Here is another checklist for you.
Did you unzip the files?
Correct embroidery file format selected?
Suitable stabilizer used?
Embroidery stabilizer is clamped firmly?
Inserted a new embroidery needle?
Lower thread rewound?
Tried another embroidery thread/color?
Switching the embroidery machine off and on again?
Embroidery machine cleaned?
You can find the right files in our shop.
Have fun browsing and embroidering.
creative greetings
Jana